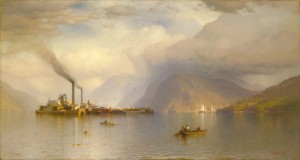 "It was a portrait painter, Robert Fulton, that gave us the power of steam navigation. It was a portrait painter, S.F.B. Morse, that devised the magic electric telegraph. It was a portrait painter, C.W. Peale, that first made porcelain teeth. And, I, though a portrait painter, lighted the first city with gas." – Rembrandt Peale (1778-1860) on how American artists can take credit for many of the nation's most celebrated inventions.
The United States began with an act of imagination. The Founding Fathers envisioned the nation as a Great Experiment for promoting human happiness, an ongoing trial of democratic liberties that would be sustained by the inquiring spirit of each new generation. As the last of the founders passed away, nineteenth-century citizens took up their work. Calling themselves "an inventive people," they began to shape what they thought a democratic nation should be through scientific and artistic descriptions of the country's bounteous nature and mechanical innovations aimed at improving their lives. Americans in every walk of life were bound together by the idea that they shared a special genius for invention.
Our modern technologies have surpassed the nineteenth century's beginning efforts, and we know that century's failures well, from the decimation of the buffalo to the ruin of the Civil War. But we are the heirs of the nineteenth century's successful experiments. As we confront the complexities of our twenty-first-century stewardship, how do we sustain our nation's prosperity? Today's urgent social and environmental challenges call for a great national brainstorm, a collaborative imagining of enduring solutions that harness the transformative power of American inventiveness.
Click on an artwork to learn more about how that artwork connects to the theme of Industry, Invention, and Progress.
19th Century – Steamboats, Canals, Railroads, Mining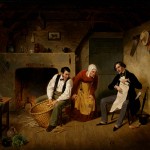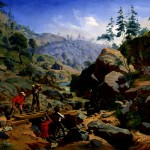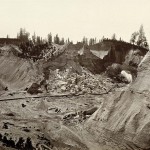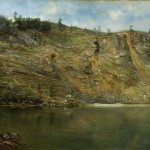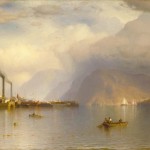 20th Century – Buildings, Subways, Dams, Cars, Nuclear Power