During the Cold War era, the United States and the USSR engaged in a nuclear arms race for supremacy in nuclear warfare. The image artist Robert Longo has rendered seems at first like a beautiful swirling mass, but to those who lived in fear of nuclear war during the Cold War era, the image is an all too familiar reminder of the constant fear that permeated their lives and the power and devastation that atomic weapons cause. The sustained state of military and political tension during the Cold War spilled over into the lives of everyday citizens. In fact, the artist himself grew up in a time where duck and cover drills in school were common. But he was prompted to create his series of images of atomic blasts decades later, after one of his children viewed a photograph of an atomic mushroom cloud and commented that it looked like a cloud or a tornado. This image is based on an archival photograph of the first Chinese hydrogen bomb test in 1967. Similarly, artist Thomas Ruff has taken a pixelated image of rubble and enlarged it to the point that the pixelation of the digital image supersedes the recognizability of the image as a photograph. It is only as we look closer that we realize that we are seeing the remnants of the Twin Towers in New York, destroyed by a terrorist attack on September 11, 2001. The image is meant to be horrifyingly beautiful, but also serves to remind us of events and images that were seared into our memory that day and entered into our collective consciousness.
Primary Source Connections
Diary of Edith E. Johnson, October, 1950
Find it in a Library (Excerpt from page 245)
Excerpt: "One of my friends came in to warn me that I must be prepared for an atom bomb. She was at a Red Cross meeting where they talked of nothing else. The time is set for some time in March, but where they got their information she couldn't say. I said I did not believe it and anyway what could I do about it beyond praying that it would kill me outright. My friend said that I could at least keep a bag packed and have some money on hand. That is what she is going to do. She met a man in Mexico this summer who insists that the bomb will be dropped in November. He said Stalin is getting old and that naturally he wishes to conquer the world before he dies. He will begin his campaign in November because the Germans cannot get into Russia in the winter. Evidently there are those who believe all that stuff but I am a skeptic as well as an optimist, and refuse to be worried."
Source: Leaves from a Doctor's Diary, 1954, Edith Eugenie Johnson
Artwork Connections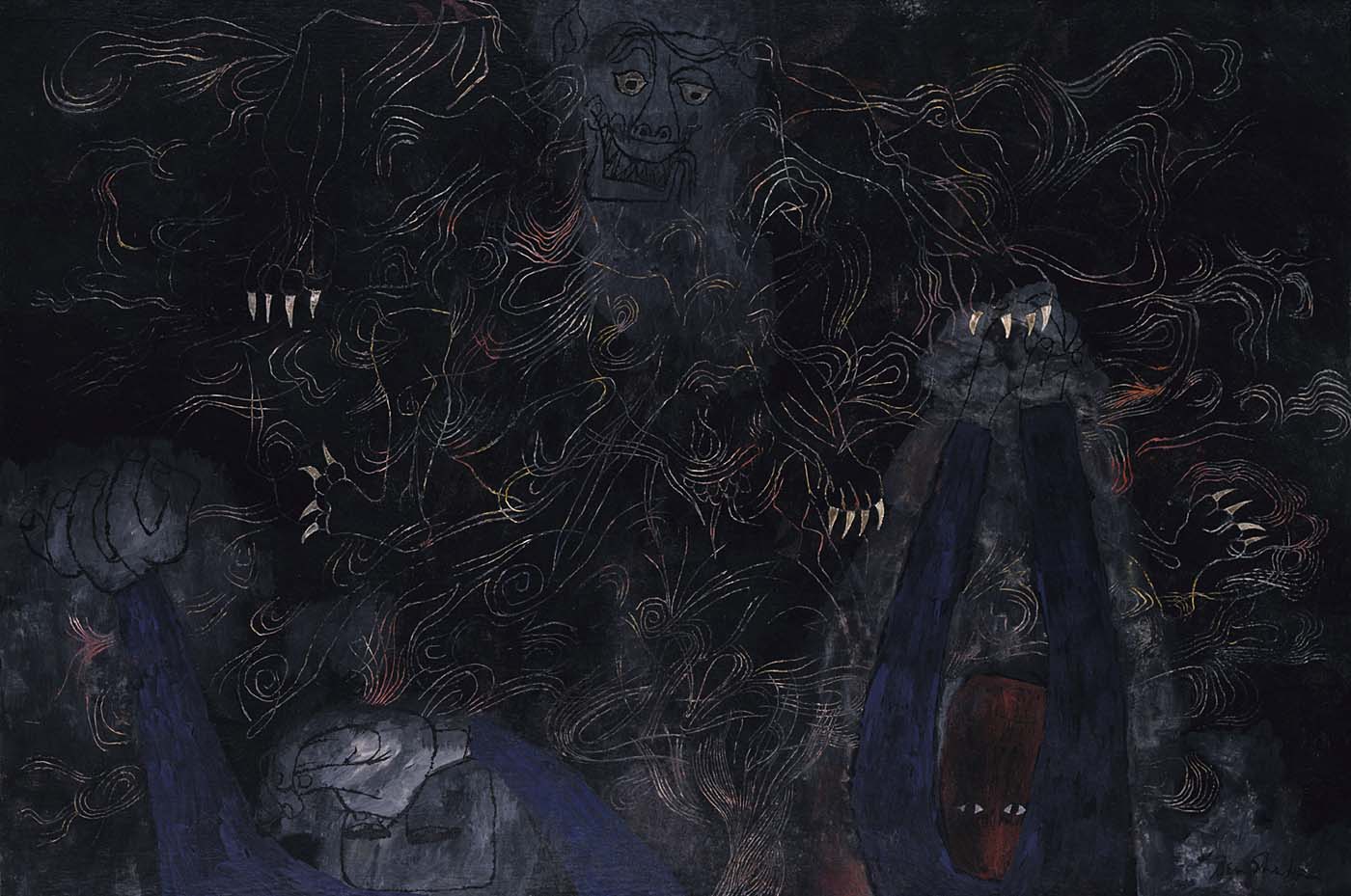 We Did Not Know What Happened to Us, ca. 1960, Ben Shahan
This work by artist/ peace activist Ben Shahan is part of a larger series which explores the story of the crew aboard the Japanese fishing boat Lucky Dragon. The crew was exposed to a shower of radioactive debris from an American hydrogen bomb test in the Pacific Ocean, on March 1, 1954. All twenty-three crew members died of radiation poisoning. Shahan strongly opposed the use of nuclear weapons, and this series is his reaction to the tragic Lucky Dragon story. The incident strained relations between the U.S. and Japan and began a worldwide debate over the use of nuclear weapons. The scene in We Did Not Know What Happened to Us depicts the moment of the bomb's impact. An apocalyptic beast with bared teeth and multiple clawed arms dominates the upper register amidst a black cloud – a representation for the bomb. Its victims are shown below, arms outstretched as one figure attempts to cover his mouth.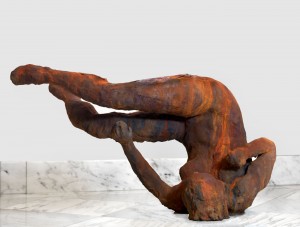 Ten Breaths: Tumbling Woman II, 2007-2008, Eric Fischl
Ten Breaths: Tumbling Woman II is a second sculpture Fischl made in response to the events of 9/11. The original Tumbling Woman was unveiled at Rockefeller Center on the first anniversary of 9/11. A firestorm erupted around it and it was covered up and removed a few days later. According to Fischl, "The experience of 9/11, the trauma and tragedy was amplified by the fact that there were no bodies. You had 3000 people who died and no bodies, so the mourning process turned to the language of architecture." That led to a question about how to grieve and how to memorialize. "Do you shoot up lights that look and imitate like ghosts of the building, or do the footprints of the building have to be preserved as sacred ground?" Fischl asked. Unlike the people we lost on 9/11, Fischl's Tumbling Woman, remains with us, at the moment of impact—her skin a haunting shade of fire. – Eye Level, Smithsonian American Art Museum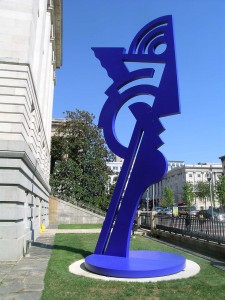 Modern Head, 1974/1990, Roy Lichtenstein
Modern Head stands thirty-one feet tall and is made of stainless steel painted blue. The sculpture is part of a series Lichtenstein began in the late 1960s that explored the idea of creating images of human figures that look like machines. This concept pervaded the artist's work throughout his career.
In 1996, Modern Head was installed by the Public Art Fund of New York City in Battery Park City, one block from the World Trade Center. The sculpture survived the September 11, 2001, terrorist attacks with only surface scratches and was temporarily used by the FBI as a message board during its investigations. The sculpture was removed from the site on November 9, 2001, and after several moves, it is now installed on the grounds of the Museum's main building at the corner of Ninth and F streets, N.W.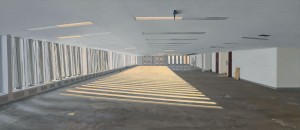 Untenanted Space in the World Trade Center – Winter Sun, 1998, Rackstraw Downes
Media
World War II Part 1: Crash Course US History – PBS (section on Atomic Bombs begins at 9:25) TV-G
This Crash Course video will teach you how the United States got into the war, and just how involved America was before Congress actually declared war. It will discuss the military tactics and weaponry involved, specifically the huge amount of aerial bombing that characterized the war, and the atomic bombs that ended the war in the Pacific.
Terrorism, War, and Bush 43: Crash Course US History – PBS (15 min) TV-G
From the controversial election in 2000, to the events of 9/11 and Bush's prosecution of the War on Terror, the George W. Bush presidency was an eventful one. Crash Course will teach you about Bush's domestic policies like tax cutting, education reform, and he'll get into the wars in Afghanistan and Iraq.
Additional Smithsonian Resources
Exploring all 19 Smithsonian museums is a great way to enhance your curriculum, no matter what your discipline may be. In this section, you'll find resources that we have put together from a variety of Smithsonian museums to enhance your students' learning experience, broaden their skill set, and not only meet education standards, but exceed them.
Subject: Art
This Stunning Contemporary Art Captures Terror, Wonder and Wit in the Anthropocene – Smithsonian Magazine
This Smithsonian Magazine article interviews Joanna Marsh, senior curator of contemporary interpretation at the Smithsonian American Art Museum, about the human impact on our environment.
"Approaching Research: jpeg de01" (PDF) – Smithsonian American Art Museum
Process notes for students on how researchers investigated a question about an artwork, step-by-step.
Subject: History
The Price of Freedom: Cold War – Smithsonian National Museum of American History
Americans led Western efforts to contain Communism. President Harry S. Truman ardently pursued a policy of containment, bolstering any ally—in Europe or Asia—who stood in the way of Communist expansion. And after the Soviets developed their own atomic weapon in 1949, Truman set a precedent for outmatching their nuclear arsenal. This online exhibition provides historical essays paired with primary resources.
The Price of Freedom: New American Roles – Smithsonian National Museum of American History
Stunning attacks in the United States by al Qaeda, an international Islamist terrorist group, killed nearly 3,000 people and launched an American-led war on terrorism. This online exhibition provides historical essays paired with primary resources.

Standards
Historical Thinking Standards
The preceding information supports the following Historical Thinking-based concepts:
Standard 1. Chronological Thinking
Identify the temporal structure of a historical narrative or story.
Standard 2. Historical Comprehension

Reconstruct the literal meaning of a historical passage.
Appreciate historical perspectives.
Standard 3. Historical Analysis and Interpretation
Consider multiple perspectives.
Distinguish between unsupported expressions of opinion and informed hypotheses grounded in historical evidence.
Challenge arguments of historical inevitability.
Hold interpretations of history as tentative.
Evaluate major debates among historians.
Hypothesize the influence of the past.
Standard 4. Historical Research Capabilities
Formulate historical questions.
Obtain historical data.
Interrogate historical data.
Identify the gaps in the available records and marshal contextual knowledge and perspectives of the time and place.
Identify issues and problems in the past.
Marshal evidence of antecedent circumstances.
Identify relevant historical antecedents.
Formulate a position or course of action on an issue.
Evaluate the implementation of a decision.